It can be difficult to know where to begin and what to do after a personal injury, and many of our past clients put off the decision to do anything for months or even years. When they finally make the decision to contact an attorney, they talk about how much of a stress relief it was and how it gave them the clarity they needed to make an informed decision.
But you can get answers to your most pressing questions by accessing our Maritime Injury Law Library. 
What's Included in the Maritime Injury Library?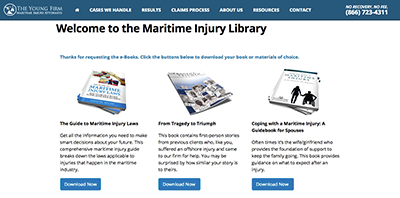 When you fill out the form, you'll receive instant access to our Maritime Injury Library which will give you the PDF versions of all of the below books & worksheets.
These books and worksheets break down Maritime Injury Law in easy-to-understand concepts. You'll get helpful tips and insider information on how personal injury cases work. You'll learn common situations after an injury, how your company might respond, where you can go for financial resources, and more. Get answers today!